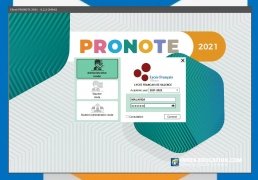 PRONOTE offers teachers, students, and administrators of the French educational community access to a platform where they can manage their resources
The platform that connects all of the members of the French education system
The French non-university education system features a platform that connects different members of the educational community, such as parents, students, teachers, and administrators. The platform is called PRONOTE and is where they can access all kinds of resources that reflect their user profile.
A platform for members of France's education community
This service allows all education centers to register so that users linked to it can access a range of online resources suited to each one of them. All they have to do is choose the type of access and enter user information:
Teachers: enter grades, record absences and sanctions, set homework, upload didactic material, post surveys, communicate with parents and students…
Students: access didactic material, use a messaging system for asking any questions, hand in homework…
Parents: view children's grades, communicate with teachers, arrange meetings with teaching staff…
Administrators: manage timetables, monitor teacher absences, manage substitute teachers…
The vast majority of French middle and high schools are registered on this platform, including education centers in other countries, offering access to a range of centers when they create the corresponding profile.